The Pit
The Pit - High Velocity Reflex Challenge

Warning! Due to a bug the game will not work with refresh rates different than 60hz

Play with Firefox or Chrome. The game has sounds and music and they may not play on other browsers.

Objective: reach the end of The Pit before the timer ends.
Discover what lies at the end of The Pit. It currently stands at 700m of depth!

How to play
Arrows: move around, increase/decrease freefall speed
X: grab/throw enemies
C: dash
Grab the enemies when they enter the circle and throw them. You can throw them in all directions for different results.

Grab hearts to sustain more damage.
Move around to slow yourself down or accelerate even more!

Keep your velocity high! You need to reach the end before the timer ends.
About
Made by fullmontis for the Ludum Dare 48 in 48 hours.
You can find more of my stuff on my website

Download
Click download now to get access to the following files:
LD48 - Source.html
555 kB
Comments
Log in with itch.io to leave a comment.
i'm not sure if this is a bug but you move left and right at a snails pace
I decided to play this again after some time, cuz why not and...
I GOT TO THE ENDING WITH 00.00.1 SECONDS LEFT
The image below contains spoilers
If you don't want spoilers don't click in the "view rest" thingy
Okay?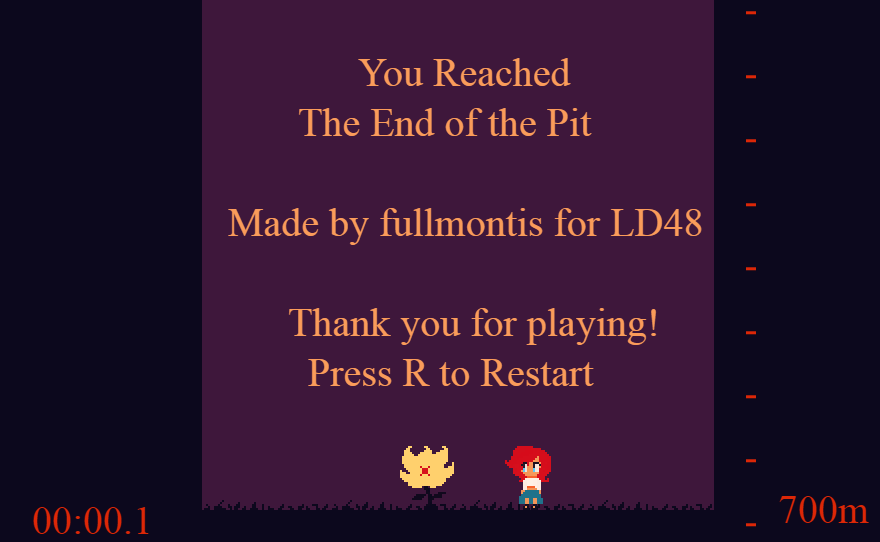 Really fun and addicting, I love it!