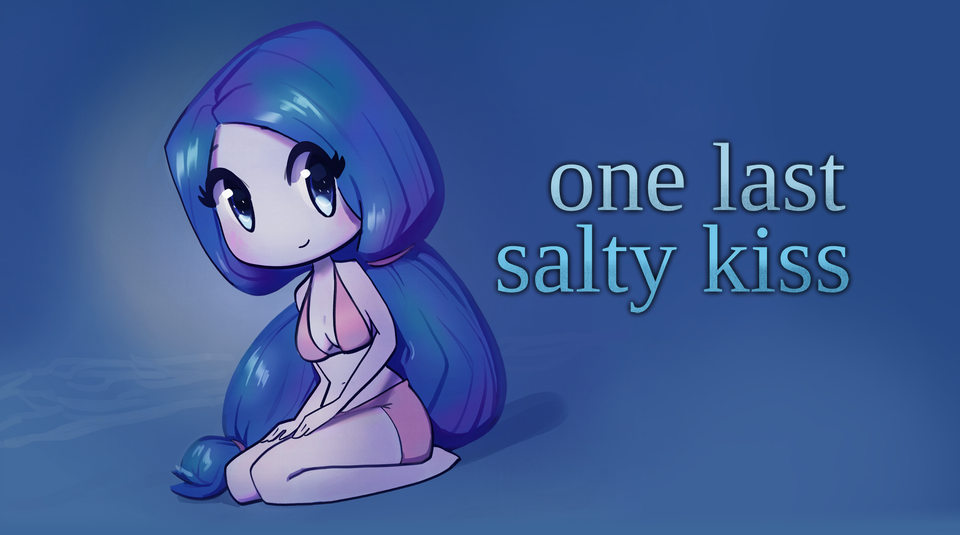 One Last Salty Kiss
Comments
Log in with itch.io to leave a comment.
Here is my review of OLSK!

Thank you for the review, it was very entertaining to watch! I'm really happy that you had a good time with OLSK
Hello Andrea,
I've just finished reading One Last Salty Kiss....and I have to say it is an outstanding work! After going through the extra's galleries, I can see how much work you put into every detail of this novel: from characterization to background art, to sprite details.... Every last element of this story is perfect.
Thank you for creating such an enjoyable Visual Novel.
Thank you so much! I'm really happy you enjoyed it :) I only put so much effort because I want you to enjoy a good story

I was searching for a eroge with a bit romance and then i end up in this game and man..isn't what i was expecting.Is not full of hentai,but i just loved it,i loved so much all the atmosphere and the history.I loved this beatiful ending
Thank you, I'm sorry it's not what you were expecting, but I'm happy you enjoyed it anyway!

I just have read this VN in russian translation made by some enthusiast. And I remembered why I love visual novels so much. You know, a lot of novels which are translated to Russian language are full of hentai, ecchi and similar content. But it weren't, aren't and will never be the main advantages of such games. The soul. The atmosphere of this game made me crazy after passing this one.
I felt a great number of emotions. And they are priceless. That's why it's a 5-star game IMHO. Maybe I just tired of endless hentai in VNs but I really love this game!
*Sorry for my bad english if you don't understand something :) *
Thank you! I'm really happy that it was able to transmit something to you, it really means a lot.
[Spoiler Warning]
That was pretty good, but overall I think it felt pretty drawn-out. When he asks Giovanni about Azzurra, then he gets back to the spot to meet with her, I was honestly feeling like I just want it to be over. Luckily his time with her after that saves it, but then again once it comes back to Giovanni, my interest fluctuated again.

Tbh I wasn't drawn in from the very beginning. It only got interesting for me when the truth behind her starts being undiscovered. I think a big factor in that is the art style. I would have preferred a more serious style especially cause the story does get pretty serious, I feel like it would have made more impact if it wasn't so cartoon. (Mind that this is the first vn I read from you tho)
For almost the whole time, I wasn't really interested in the visuals, and was just looking at the text box. I think this was a factor why I felt so tired after reading, as I was just focusing on that rather that occasionally looking around. I don't think this means it necessarily needs more backgrounds/cg but the bgs were just so simple that I already processed what they are the first time I saw them.

Despite not being too interested in Giovanni's parts, I think you did a good job on circling it around at the end. Him inviting him for food like he did at the start. I felt like actually showing the dinner was unnecessary tho. It could have just ended with him being hired, then you could have shown the last part with Azzurra the next morning as an epilogue after the credits imo. Him being hired already felt like a good ending, and you could have given the players time to process that if you showed the credits right after. I think I would have cared about his last meeting with her more if I have processed him being hired already.

Thinking back to it now, I liked the story. But I could have taken it in a shorter time, and I would still have the same enjoyment.
Thanks for the criticism, it's really helpful to have other perspectives and I really appreciate the effort you put into this! Do you have some examples of VNs with a serious art style that's appropriate, in your opinion?

Also, can you please add a spoiler warning at the top of your post? Thank you!

Oh I should have added that I know the art style is completely subjective. I'm not saying you actually need to change it, but just something you can consider. I understand that an art style could be something important to an artist, and they would want to portray their ideas in a certain way.
I actually don't know much VNs to really give an example like that, and honestly idk what exactly is a style I think is appropriate. Maybe it's not necessarily changing the art style but just putting some more details to the backgrounds or even characters to make them a bit more realistic. I do think how it looks like right now has a certain charm to it tho. What I said is really just a personal preference more than anything, I don't wanna disrupt you as an artist.


I see, thanks for the honesty, you've been making me think about my work under a different light and that's invaluable. Hope I will create something more appealing to you in the future.

Wow... What a ride that was! Aside from a few grammar/technical errors (characters speaking lines when it was meant to be Michele's inner monologue), I'd call this perfect!
Oh wow, thank you! I'm sorry about the mistakes, do you have any reference as to where they are, so that I can fix them? Even just indicative

I remember one was with the hotel owner towards the end of the story (right outside of the locked room). I don't remember where the other one was.