Monster Girl Diaries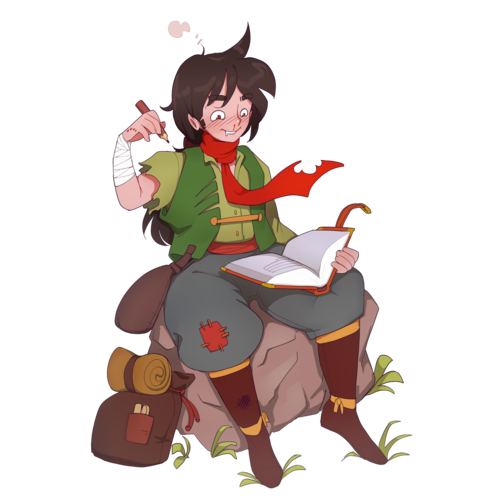 My name is Lucas Ludmon. If you're reading these notes, you've stumbled upon years of my own research in a field in which I like to consider myself a pioneer in.

Monsters. Of the female variant, to be precise.
This book is a recalling of the monster girls I was lucky enough to meet during my travels. And I'm sharing it with you, my dear reader, to let you know of the wonders (and lust!) that lies in this magical world.
This is an ecchi artist collab made for Halloween 2022. It is an Artbook in which each artist designed a monster girl around a classic monster/cryptid, and a short story connected to her.
Monster girls included in this artbook: Arachne, Cyclop, Dragon, Dullahan, Elemental, Fairy, Goblin, Harpy, Harpyquinn, Hydra, Imp, Kitsune, Kobold, Lamia, Mermaid, Mimic, Oni, Slime, Sphinx, Succubus, Werewolf, Zombie
WARNING: THIS IS CONTENT INTENDED FOR MATURE AUDIENCES (NUDITY AND SEXUALLY SUGGESTIVE CONTENT)

---
---
The following artists and writers have contributed with their art and stories:
BountyHunterOfLewd DeviantArt
TheBigDuurnt Instagram Twitter
Crimellgrim Twitter FurAffinity
Sable Instagram Twitter Patreon Etsy
pandaz90 Twitter SFW Twitter NSFW
TushiTrash TikTok Patreon Instagram Twitter
MisterSouji Twitter Pixiv DeviantArt
paperskinned Twitter
Owl Twitter SFW Twitter NSFW Patreon
Zedrin Twitter Newgrounds YouTube Patreon
Zombiate Twitter DeviantArt FurAffinity Patreon
reer Twitter
Sector Twitter
Elsen Twitter SFW Twitter NSFW
Nacon Twitter More Links
RHappyFace Twitter
Scarlet Twitter
Nickzilla2000 Twitter
Karnoss Twitter
fullmontis Twitter Instagram Website